DIY Sunlight Blinds by Mattrat505
I thought I would share my solution to a vexing problem. One of the basic rules for setting up fishtanks states.... set up in the darkest part of your house. Excess sunlight will cause problems for your tank. Algae blooms will happen with excess sunlight feeding the little hardy organisms! But, what if you need sunlight for your houseplants? What if your aquariums must be placed in certain high sunlight locations because of necessity? Do you close the blinds and shades and live in darkness? Well because my fiance and I live in a condo with massive windows all over the floor-plan, and we own many, many houseplants we knew that we were gonna have problems. Also there was really only one place we could reasonably place 90 gallons worth of aquariums... so we had a problem.... here is what we had been doing to address it and it was very, very ugly!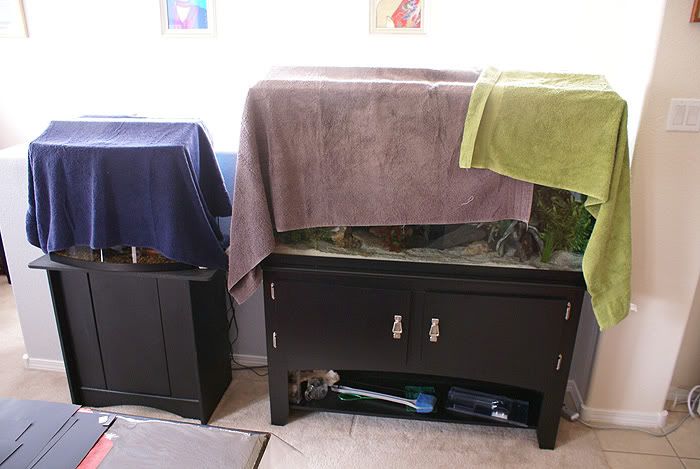 This was the new solution I came up with, SUNLIGHT BLINDS! I think it is much more pleasing to the eye!


What you will need is: Some black construction paper, scissors, super glue, some rolled up magnet with adhesive you can find at a hobby store......


So first thing you need to do is measure the front, and sides of the aquariums you wish to place the sun blinds on!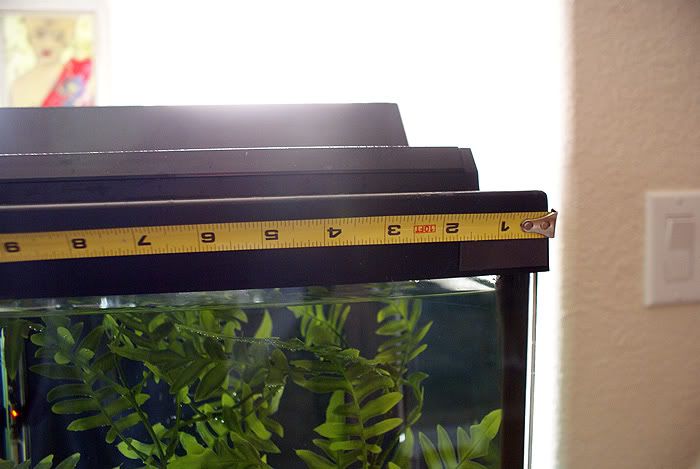 Then cut the construction paper into the sizes you will need to cover the glass... some larger aquariums might need 2 pieces to cover the front......


After you have done this its time to cut the magnet from the roll. Cut about 2 to 3 inch pieces for this next part. If you think the construction paper might be heavier than normal than cut even longer pieces of magnet. Better to have too much magnetism holding the blinds than to little.....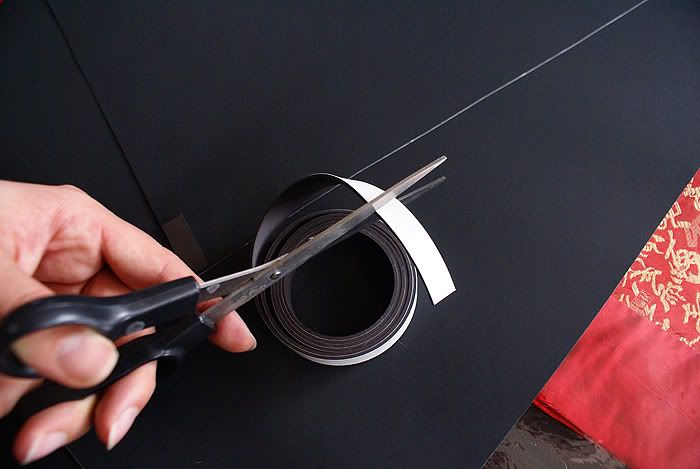 Now remove the adhesive strips and squeeze out a thin line of super glue onto the adhesive strip side of the first magnet. Why do you apply super glue if there's adhesive already there you ask? Cause I tried it without the glue and the adhesive isn't strong enough to hold the blinds for very long. I came home to the blinds on the floor more than a couple of times.....


Now place very carefully onto the plastic rim of the aquarium where the blinds will attach to the said magnets. Please be very careful not to get super glue on your glass.... it will be a nightmare to clean! Continue until all sides are done.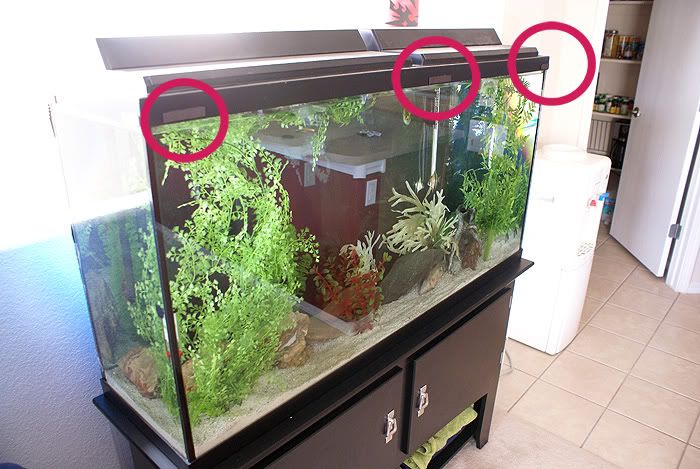 Now do the same with the construction paper blinds that are already cut out, the magnets on the corners of the black paper will attract to the magnets already placed on the aquarium and you will now have Sunlight Blinds!
Also I noticed that my mono argentus seemed to freak out more than normal when they were in pitch black, so I now keep my tanks open on the side that is not facing any heavy sunlight windows....


The beauty of this system is it can be tailored for your sunlight blocking needs... This system is great for people like us in a condo with limited space and large windows, students in dorm rooms who's roommates get tired of living in darkness, or just people who want to let some sunlight into their tank room every now an then.... a panoramic picture of our living room to show you guys just how many huge windows we have! And my beautiful daughter on the couch of course!



Now I haven't had a problem with the magnets wearing out.... over time magnets do lose their magnetism but I think that if it does happen in the future i should be able to scrape off the dead magnets with a razor blade... also if the black construction paper gets dirty, wet, or just gets bad.... buy some more its cheap.. in fact this whole project is pretty cheap! Anyway hope this helps some of you guys like it helped me!